Event Planning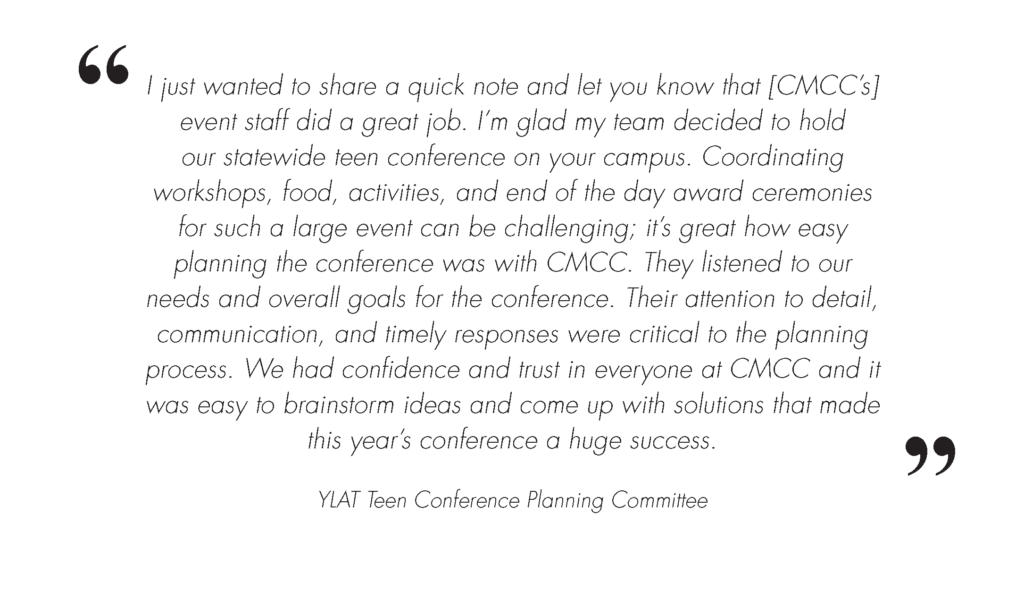 Located on beautiful Lake Auburn, CMCC is an ideal and convenient location for your next event. With a wide range of spaces that can accommodate an executive board meeting, a day-long workshop, a celebratory gathering, or even a company picnic, we have the space you need.
Our accessible, onsite amenities and personal help planning your event if needed, ensure that any event will be a success! From catering, to assisting with details, to guest amenities, we're here to help make event planning easy.
Guest Resources
On-site Catering: The Mustang Dining Commons is at your service to meet any catering needs. Choose from our standard catering menu or create something custom to meet the needs of your group; our high-quality selection and presentation cannot be matched!
A/V Equipment: All of our spaces available for use are equipped with standard presentation equipment (projector, screen, and computer station). Video Conferencing and Smart Projector capabilities are available in select event spaces. Additional tools can be requested such as flip charts/markers, easels, etc.
Free Wi-Fi: Access to the CMCC wireless internet is complimentary and available to all guests on campus.
Parking: There is no charge for parking on campus; parking permits are not required.
Gallery of Event Spaces
Read More