Mustang Fitness Center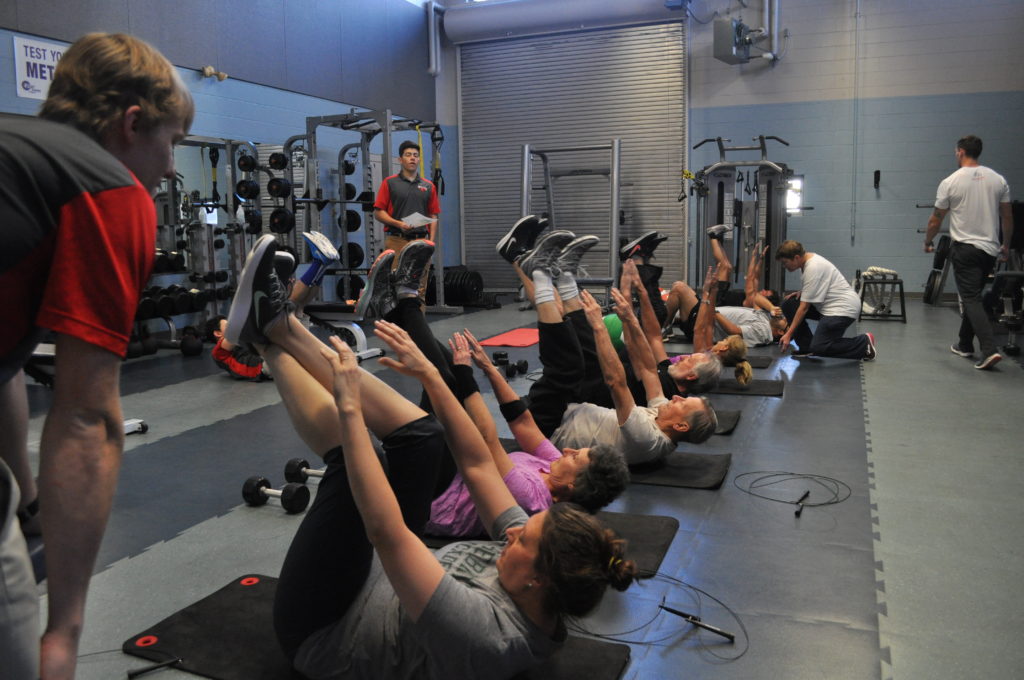 Whether you're looking for a gym, a personal trainer, or fitness classes, the Mustang Fitness Center can meet your needs. We serve both students and members of the local community.

The Mustang Fitness Center in Kirk Hall, overseen by the professionals from Central Maine Conditioning Clinic, is here to help you and those around you live and make healthier lifestyle choices. Students may use the Mustang Fitness Center FREE while attending CMCC and have one additional free year after graduation. Students may also participate in many fitness classes for free. If you are a member of the community, then look no further and you'll see exactly why we are the best around and offer the most services at affordable prices.
Fitness Center Hours
Monday – Thursday
6:00 AM to 7:00 PM
Friday
6:00 AM to 5:00 PM
Saturday
7:00 AM to 12:00 PM
Sunday
CLOSED
Open for Strength & Conditioning ONLY during the following times:
Monday – Thursday
7:00 PM to 8:00 PM
Tuesday & Thursday
9:30 AM to 12:00 PM
2:00 PM – 3:30 PM
Friday
9:00 AM to 12:00 PM
Pricing
The annual membership fee is $150, which included  2 free training sessions plus assessment and goal setting.
Personal Training
Sometimes one-on-one help can be what you need to develop a new fitness habit and reach your fitness goals. The Mustang Fitness Center offers personal training with either a student trainer, who is overseen by a professional team, or a professional certified fitness trainer.
Student Trainer
Certified Fitness Trainer
Half-Hour Session: $15

One-Hour Session: $20

Group of 10 Half-Hour Sessions: $150

Group of 10 One-Hour Sessions: $250

Half-Hour Session: $25

One-Hour Session: $45

Group of 10 Half-Hour Sessions: $250

Group of 10 One-Hour Sessions: $450
Group personal training rates are $75 per month, per person (minimum group size is 2, maximum group size is 6)
Resting metabolic testing is $45
Available Fitness Equipment
Cardio Room
Weight Room
Group Exercise Room
Treadmills
Arc Trainers
Ellipticals
Recumbent Upright Bikes
Rowing Machines
Selectorize Machines
Free Weights
Kettlebells
Slamballs
Medicine Balls
Plyo Boxes
Squat Racks
Benches
Physioballs
Slideboard
Resistance Bands
and more!
Free weights
Physioballs
Boxing equipment
Spin bikes
Yoga mats
and more!
Group Exercise Classes
Sometimes group exercise is the way to go. You can challenge yourself while participating in a group environment. Many group exercise classes are free for current students, and only $5.00 to drop in for members of the community. Our group exercise offerings are always changing, so make sure to check out the latest group exercise schedule!
Read More