Info on Applying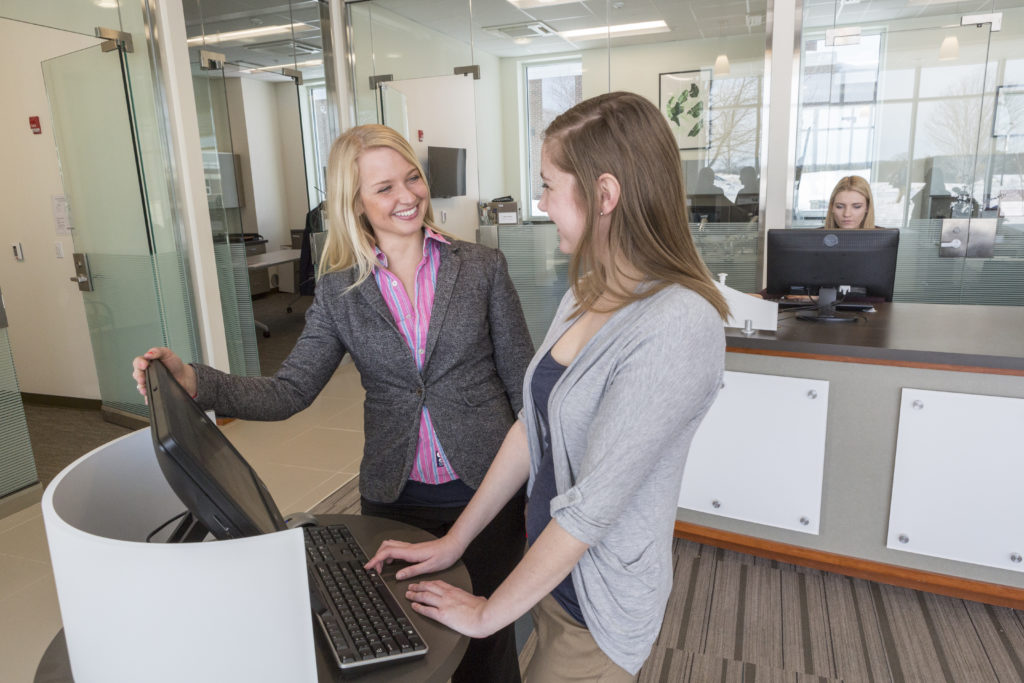 Rolling Admissions
At Central Maine Community College we make applying easy. With a rolling admissions policy for most programs, individuals can apply and be considered for acceptance throughout the year. All programs begin in the fall semester, starting in late August to early September. Spring admission is possible for most programs. Both spring and summer matriculation are also great options for students who wish to begin by taking mostly general education courses.
Nursing degree applicants are selected on a competitive basis once a year, and they begin in the fall semester. Application materials are accepted between September 1st and February 28th. Selection decisions are made until the program is full.
Admissions Requirements
A completed Application for Admission. 
An official high school transcript for all years attended. Students who have an associate's degree or have earned 60 or more credits toward a bachelor's degree do not need to supply their high school transcript or GED, but must supply their college transcript(s).

Current high school seniors must include the first marking period for the senior year. A final transcript will be needed for all graduating seniors prior to the first day of college classes.
Non-high school graduates must submit official GED/HiSET test scores.
CMCC accepts and prefers electronic transcripts, which the respective school must send to enroll@cmcc.edu or mail physical copies to:
Central Maine Community College
C/O Office of Admissions
1250 Turner Street
Auburn, ME 04210
Documentation of all program prerequisites. Prerequisites may appear on the high school or adult education transcripts, prior college transcripts, or other documentation. Please carefully review the prerequisites for the preferred program of study. Prospective applicants who do not meet these requirements are strongly encouraged to contact the Office of Admissions.
Academic skills assessment scores or documentation. CMCC is test-optional for the SAT/ACT. CMCC will use multiple measures to assess your English and Math placement using your transcripts and other methods. Call the Admissions office at 207-755-5273. If you have SAT/ACT scores, please send a screenshot that includes your name, section scores, and date taken to enroll@cmcc.edu.Your college transcript(s) must be sent by the respective school(s) to enroll@cmcc.edu. You may request they mail physical copies to:
Central Maine Community College
C/O Office of Admissions
1250 Turner Street
Auburn, ME 04210
Special Nursing Applicant Admissions Requirements
Admissions Requirements for Students with Foreign Transcripts, and International Students
Students with Foreign Transcripts
"Students with foreign transcripts" are defined as individuals who have a permanent United States address, are not sole residents of another country, and have studied at a foreign university or high school. These students should complete the regular admissions requirements in the first drop-down above, but must ensure official academic transcripts are professionally translated to English. We recommend using an evaluation service accredited by the National Association of Credential Evaluation Services (NACES).  Students should carefully review the list of evaluation services as prices and timing vary
International Students
Central Maine Community College welcomes students from all over the world. An "international student" is defined as a person who is not a U.S. citizen or U.S. immigrant and seeks to attend college in the U.S. while maintaining residency in another nation. An F-1 student visa is required before an international student can attend CMCC. To get an F-1 Visa, the College needs to submit a Form I-20 that indicates you have been accepted at CMCC, have the funds to attend, and have the language skills to be successful.
Admissions Requirements for International Students

For us to prepare the I-20, you need to complete the following steps and provide the following materials:
A completed Application for Admission.
Official academic transcripts professionally translated to English – we recommend using World Education Services (www.wes.org).
Attendance Confirmation. Please confirm your spot at, CMCC.edu/Mustang
Academic skills assessment scores are recommended. We accept TOEFL score of 71 (internet-based), 197 (computer-based), or 530 (paper-based) or ACCUPLACER scores.
A CMCC International Budget and Declaration of Finances form indicating sufficient funds to meet your educational and living expenses for a minimum of the length of the program as well as documentation to support you have the funding for each year you are enrolled.
Your current permanent foreign address and your United States address.
All fees may be paid via money order, or over the phone with a credit card at 1-207-755-5219.
Please be advised of the following conditions that apply to F-1 students:
You must maintain full-time student status (12 credits minimum) at all times.
If you plan to live on campus, you must apply and pay the housing deposit.
The College does not provide financial aid to international students so all costs of attendance are the student's responsibility.
You may only enroll in one online course per semester.
Below are links that may be of interest to international students.
Read More